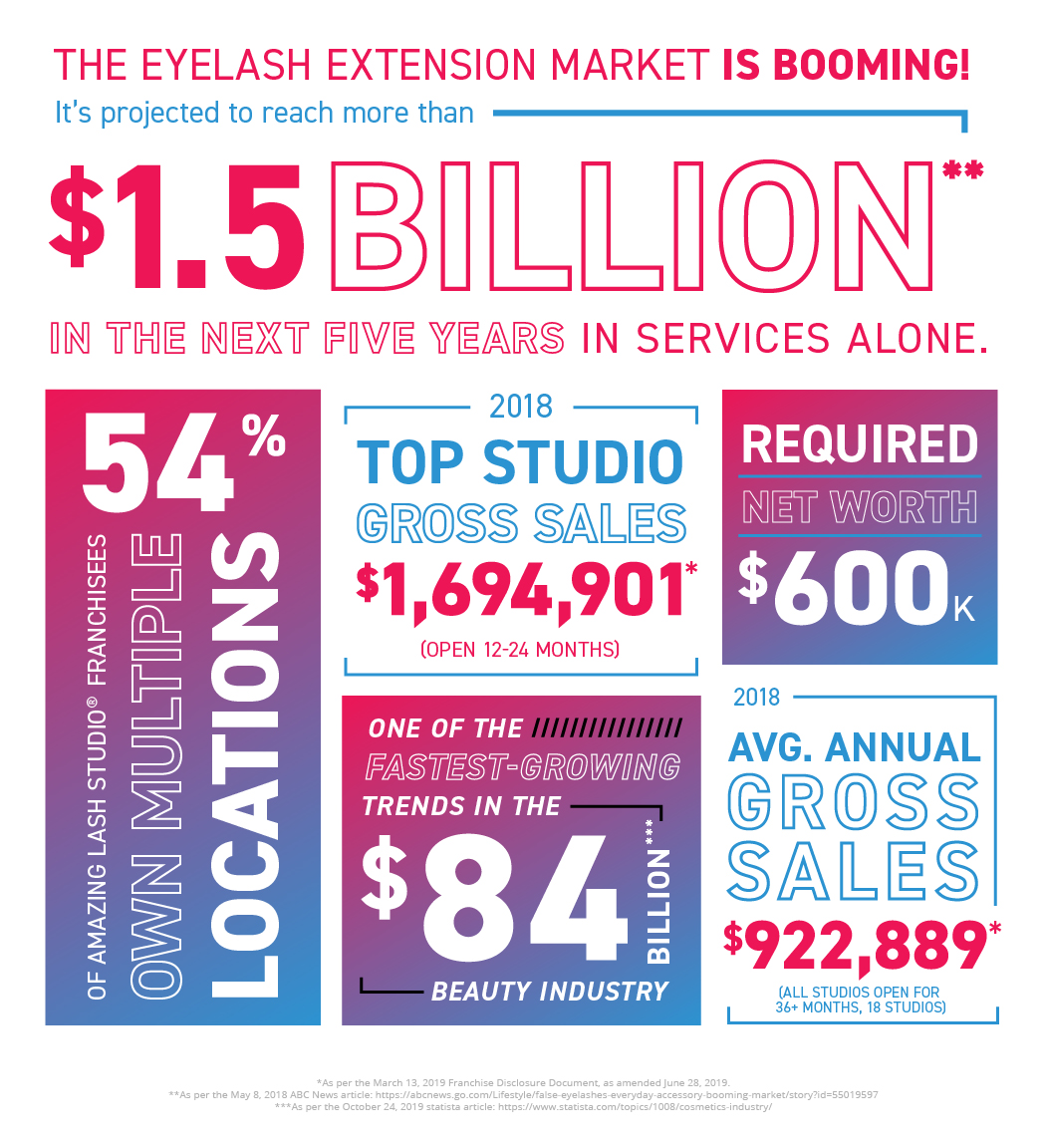 INVESTMENT & REQUIREMENTS*
| | |
| --- | --- |
| MINIMUM LIQUIDITY REQUIREMENT | $150,000 |
| MINIMUM NET WORTH REQUIREMENT | $600,000 |
| TOTAL ESTIMATED INITIAL INVESTMENT | $304,071 – $635,972 |
| ESTIMATED TIME TO OPEN | 6 – 12 months |
| ROYALTY FEE | 6% of gross sales |
| ADVERTISING FUND | 2% |
| LOCAL ADVERTISING | $1,750 per month |
*As per the March 31st, 2022 Franchise Disclosure Document.

UNDERSTANDING AMAZING LASH STUDIO® FRANCHISE SYSTEM
During this stage you will familiarize yourself with the Amazing Lash Studio® brand, receive our Franchise Disclosure Document (FDD) to review, and hear more about our brand positioning.

SUPPORT
Gain a thorough understanding of the support you will receive as an Amazing Lash Studio® owner from opening your studio to marketing, site selection, training and operations.

REAL ESTATE
Review the brand's strategic support on site slection. The brand takes data seriously and utilizes both demographics and psychographics to help you determine the ideal trade area to open a studio. You will speak directly with the Real Estate team to review the market you're interested in.

CONFIRMATION DAY
If we are a good fit for each other, we will invite you to the Support Center in Scottsdale or Denver to meet the Executive Team. This day will be dedicated to answering any questions you might have and diving deeper on support roles and what drives success. Confirmation Day preparation paperwork will need to be completed.

FINAL APPROVAL & AGREEMENT SIGNING
Once you have been approved by our Executive team and an agreement has been signed, a kickoff call with our team will be set up within 48 hours to start the site selection process!
AWARDS AND ACCOLADES